PIXIES Live - T in the Park (Sunday 11th July)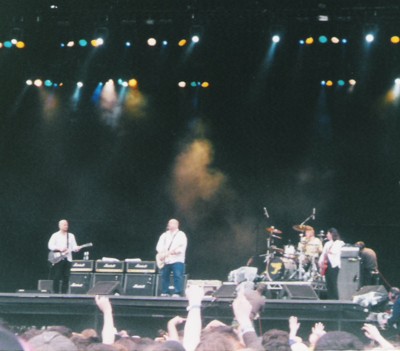 The Pixies are this year's reason for going to T in the Park. So after the beer showers earlier in the evening they better be good. I'm actually sceptical as to how many people will want to see them but any hopes of a comfortable evening are dashed as the crowd in place before they come on stage is pretty darn large.
What's interesting is that the Pixies aren't content to just turn the clock back 12 years or so. With the exception of 3 songs this could almost be 1989 again since Doolittle dominates the set and the 2 early records get decent airings too.
Planet of Sound is an odd choice of opener and strangely muted. It's well known enough though to pass muster but the blistering salvo of early songs which follow really raise the temperature. It becomes a case of mosh or be moshed with, perhaps inevitably, the crowd becoming a bit less active as the gig proceeds.
| | |
| --- | --- |
| | At one point they play EIGHT songs in a row of Doolittle, each pretty much a gem in their own individual way. Then Gigantic is wonderful and perhaps only throwing in the lightweight Here Comes Your Man near the end is anything like a mistake (not that anyone else appears to agree). The extended Vamos which closes the set though is a hoot - Joey sets his guitar on a stand and generates all sorts of feedback with effects pedals and the rest, moonwalks past his guitar to the amusement of the rest of the band. |
So, yeah, a triumph. The Pixies successfully roll the years back but perhaps the question now is where do they go from here? (Apart from another coast to coast American tour). It seems telling that the only new track so far (Bam Thwok) is a Kim composition. Perhaps Charles isn't wasting any of his songs at this stage. Given that the band was largely running out of steam on their initial demise it's also difficult to see them reclaiming earlier glories if they were to record together again.
So maybe it's best to let the Pixies remain in the past when all the touring is done. But one thing's for certain - if they do come back to Scotland, I'll certainly being doing my best to be there.
Setlist -

1. Planet of Sound 2. Bone Machine 3. Broken Face 4. Something Against You 5. Isla D'Encanta 6. Monkey Gone to Heaven 7. U-Mass 8. Velouria 9. No 13 Baby 10. I Bleed 11. Dead 12. Wave of Mutilation 13. Debaser 14. Gouge Away 15. Tame 16. Hey 17. Gigantic 18. Caribou 19. In Heaven 20. Where Is My Mind? 21. Nimrod's Son 22. Here Comes Your Man 23. Vamos

Pixies take a bow