THE UNDERTONES / TV21
Aberdeen, Lemon Tree - 2nd December 2006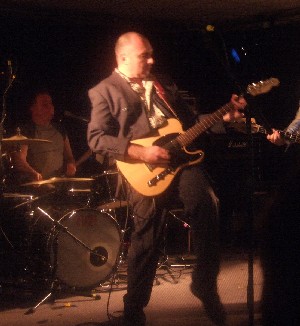 In many ways this is a big show for TV21 as it's their first outwith Edinburgh since reforming. Even at the SLF support slot at the Liquid Room there was a fair degree of backing present. Here the converted are very much in the minority.
Nonetheless an Undertones crowd should be reasonably fertile territory for TV21 and so it proves. The band produce another confident and accessible set allowing the strength of material to shine through.
In a half hour slot such as this it's pretty hard to go wrong with the established core set but the fact that the set is fairly well received amongst a surprisingly young crowd is also a plus.
Song wise the set is along very similar lines to the last couple of shows but the introduction of 'Tomorrow' is something of a surprise - I'm fairly sure that they didn't even play it when I saw them back in 1981. In many ways it's the most Teardrops-esque song on the LP but, without the trumpet, the 2006 version seems a whole lot tougher and it turns out to be one of the evening's highlights.
'Ambition' is probably the other stand-out for me - it sounds really powerful this evening and is definitely the best version they've played to date.
Otherwise it's business as usual - and that's really meant to be a compliment. The last 3 shows have all been excellent and it's a sign of the quality on offer that the highlights vary from show to show. Specifically 'Last Man Standing' is already a fixture in the set whilst pretty much everything else is great tonight.
It's probably inevitable that, sooner or later, TV21 will have an off-night but it certainly wasn't here. I'll repeat something I've said before - this band deserves to be heard.
Unlike the SLF show this time I stuck around afterwards to see the headliners, the Undertones. For whatever reason I actually had never managed to see them back in their prime (although I saw the O'Neills several times in That Petrol Emotion.)
The show turns out to be an enjoyable hour plus as the band race through 25 songs (mainly old but also about half a dozen new, as in post-reformation, ones). All the (early) hit singles are present and correct and the show is a reminder of just how many great singles the Undertones had. It's a wee bit odd though that half their recorded output is pretty much ignored. Just about everything played comes from the first two LPs and 2003's stylistically similar 'Get What You Need'.
My main problem with the show is akin to T in the Park syndrome - trying to find a decent spot to both hear and see the band. Attempting to do this just before they start playing turns out to be almost impossible because the Lemon Tree is an odd, lopsided venue with the stage very much to one side. It doesn't help that the low ceiling is also supported by a number of pillars which produce a number of dead zones for hearing. That means that anyone standing in more than half of the available space is badly positioned to see or hear the show whilst the other half is rammed full of punters.
As a consequence it's a bit hard to get fully involved in the set early on but latterly either the volume is turned up or my ears are fooled into thinking it has been.
Highlights were definitely set closer 'Get Over You' and first encore 'You've Got My Number' but it's surprising how many of the songs remain memorable even though it must be donkeys years since I last got any of the vinyl LPs out to play.
A couple of the newer ones sounded pretty good too, including 'So Close' introduced as the shortest song of the night.
Seeing a band without their original front man is always an odd experience and, even without having seen the band in their prime, that's still true. "New" singer Paul McAloon sounds close enough to Feargal Sharkey to make everything sound like the Undertones yet he still manages to bring something that is his own to the songs.
Other than the dodgy sound, my other problem is the unrelenting pace of the set. With the exception of 'Wednesday Week' it's either fast or breakneck. I must be getting old but a little bit of respite would have been welcome!
Despite the odd problem, my first gig in the Granite City since 1999 turns out to be a thoroughly enjoyable experience all round. And since TV21 were trying to persuade the Undertones to play Edinburgh next year, it's an experience which may well be repeated.